Architectural & Building
Innovative Energy Efficient Coatings and Film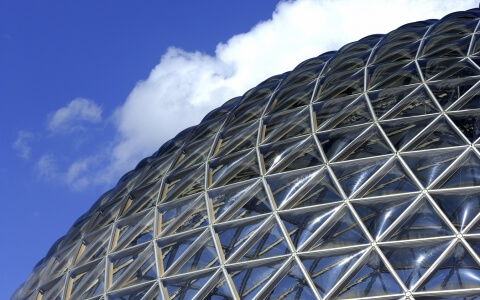 Architectural & Building
Anti-fog coated protective film and sheet applications include covered walkaways, balconies and railings, staircases and canopies, windows, doors, solar panels, domes, roof and sky lights, verandas, greenhouses, conservatories and atriums, swimming pool covers and enclosures, ice hockey arena walls, wind/sound barrier curtain walls and partitions, storefronts to outdoor digital signage installations.
Substrates
Glass: float/flat glass, bent glass (insulated, laminated, safety, security, spandrel, tempered) specialty bullet proof and tinted glass
Plastics:  polycarbonate and acrylic substrates
Applications
Canopies, curtains/walls, domes, doors, enclosures, lights, panels, walkways, windows
Greenhouse, conservatories and other plant enclosures
Bathroom mirrors and shower doors
Features
Exceptional optical clarity.
Premium weatherability and outdoor durability, will not discolor with exposure to sunlight.
Excellent resistance to fog, abrasion, chemical, impact, and ultra-violet (UV) radiation.
Tintable and printable surface.
Compatible with anti-reflective coatings, mirror treatments and adhesives.
Conforms to many environmental standards
Benefits, Anti-Fog Value Proposition
Visual Clarity & Energy Conservation
Climate control, eliminating steam on windows during hot and humid summer temperatures and frost and fog during cold winter months to enhance visibility.
Safety impact, reducing the occurrence of shattering glass from strong hurricane level winds or blowing hard impact surface hit crashes. Here the film acts like a net to trap and contain shattered glass fragments.
Energy conservation, protection from UV rays results in lower temperature variances required for heating and cooling. According to the department of energy, buildings account for 19% of all commercial electricity energy consumption.
Tintable, easy to install and maintain, may be cleaned with common household ammonia-free glass cleaner.
Optically clear, fog resistant coated film prevents the build-up of condensation and moisture.
Printability, protective film surface can be digitally printed upon for decoration and advertising.
Highly durable, resistant to scratches, mars and chemicals.
Warranted for five (5) years, permanent anti-fog performance will not wear off, even after repeated cleaning.