Commercial Freezer Display Cases
Enhancing Visual Clarity and Merchandising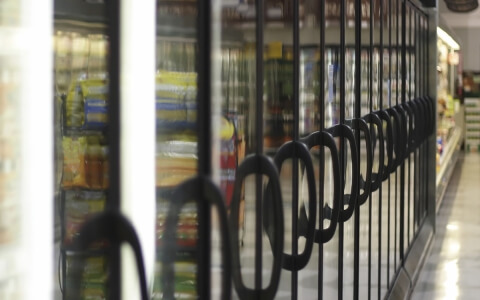 Commercial Freezer Display Cases
Our anti-fog film and sheet solutions for cold room and supermarket freezer display cases deliver superior optical clarity while supporting environmental leadership and sustainability initiatives. How to install Visgard Premium anti-fog coated film onto freezer doors: Installation Video.
Substrates
Glass, Polycarbonate, Acrylic and Other Plastics
Applications
Commercial freezer door display cases
Convenience store and commercial refrigeration display cases
Delhi and refrigerated bakery display cases
Glass door cooler merchandisers and beverage cases
Ice machines, walk-in coolers/freezers and other display cases




Features
Visgard® pre-cured coated films offer permanent anti-fog performance.
Easy to install and maintain. Can be cleaned with common household ammonia-free glass cleaners.
Optically clear visibility.
Highly durable, delivers best-in-class abrasion, scratch, mar, chemical and UV resistance.
Weatherable, will not discolor or yellow when exposed to sunlight.
Compatible with many environmental standards.
Benefits, Anti-Fog Film Value Proposition





Improves Energy Efficiency on Freezer Doors
Prevents fogging on completely non-heated doors with exceptional anti-fog and water sheeting performance.
Reduces energy consumption and wear on heated doors by eliminating unnecessary usage caused by temporary fogging.
Helps extend compressor life.
Warranted for five (5) years, anti-fog performance will not wear off, even after repeated cleaning.
Cost is 2.2 cents (USD) per day at $40 per door.
Improves Merchandising Sales
High quality anti-fog surfaces improves product durability and visual clarity.
Enhances merchandising up-sell by providing constant clarity.
Optically clear, will not yellow when exposed to sunlight.
Anti-fog coated film can be screen or digitally printed upon for in-store branding or food manufacturer advertising for additional revenue.
Stays clear for prolonged periods in a Climate Class 3 (-25°C/13°F with 60% relative humidity) environment.
Can be cleaned and maintained with products off the supermarket shelf (common ammonia-free household glass cleaners).
Easy to install and maintain, anti-fog surface with water clear masking release liner protects the coated surface during installation.
Easily replaced in store if damaged by store personnel or customers, by wet or dry lamination techniques.
Delivers best-in-class abrasion, scratch, mar, chemical and UV resistance.
Enhanced Merchandising and Visual Clarity
Anti-fog film improves visual clarity to promote impulse purchasing behavior, increase sales volume on the number of units sold.
70% of purchases from the average customer are not on their original shopping list.
Optically clear, will not yellow when exposed to sunlight.
Remains clear up to 180 seconds after the freezer door is left open under class 3 conditions.
Visgard® Anti-Fog Film Increases Sales
FSICT's Visgard anti-fog film is a PET substrate with a specialized anti-fog coating that allows water droplets to lay flat on its surface. This flattening of water droplets provides fog-free viewing on the freezer glass door. Highly stable, Visgard Premium Anti-Fog Film has excellent long-term adhesion under extreme temperature and high humidity conditions, it prevents fogging and water sheeting even after repeated cleaning.
The film is easy to install on the interior glass doors with a simple squeegee using wet or dry lamination techniques. Available with or without pressure sensitive adhesive on the reverse side protected by a release liner and a clear masking that protects the coated surface during installation.
Visgard eliminates all fog on the glass of reduced energy consumption freezer doors, even when left open for up to two minutes. By preventing freezers from fogging up, these optically clear films improve product merchandising. This is particularly important since grocery stores operate under extremely tight margins. Visgard Premium Film along with energy controllers reduces the energy consumed by the freezer and compressors that heat the doors with a payback of approximately one year.
Visgard® is a registered trademark of FSI Coating Technologies, Inc.