Sunglass & Sports Eyewear
Aligning Durability and Clarity with Consumer Trends
Consumers choose sunglasses for style and sports eyewear for performance and expect quality and durability to be givens.
Deliver quality and durability that will enhance your brand over time.
FSICT is a leader in premium anti-fog coatings that provide abrasion and impact resistance and weatherability. Our coatings are trusted by many of the world's leading brands, to enhance and maintain their products' reputations and customer loyalty.
They are UV resistant and will not discolor with exposure to sunlight.
Their hydrophilic and water sheeting qualities dramatically improve vision safety.
They are tintable and compatible with anti-reflective, mirror and metalizing treatments.
They are warranted for five (5) years. Permanent anti-fog performance will not wear off, even after repeated cleaning.
Our anti-fog coatings combine consistent clarity
and durability for all kinds of eyewear.
ANTI-FOG APPLICATIONS FOR POPULAR PRODUCTS
Sunglasses and sports eyewear (shields, masks, goggles, visors)
Safety eyewear devices including protective eyeglasses, face shields, masks, goggles and visors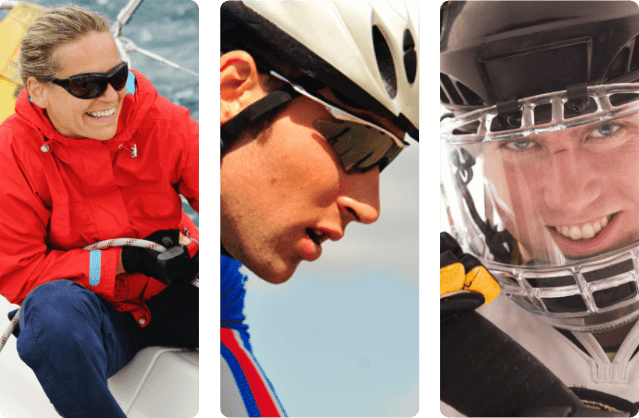 Solutions for all substrates
Glass, polycarbonate, polyamide (optical nylon)
Acrylics and certain other clear plastics
Manufacturing advantages
Good adhesion to plastic substrates
Suitable for dip, flow, spin or spray application
Thermal or UV-cure, primer and primerless (primer-free) coating options
Compatible with mirror and anti-reflective (A/R) treatments
Exceptional stability, streamlining production and maximizing product yields by reducing the need for frequent tank change-outs
Functional benefits
FSICT coatings prevent fog under environmental and occupational circumstances such as:
Humid regions when leaving an air-conditioned environment
Cold climates where frost inhibits vision
Adjusting from cold to warm conditions
Driving in extreme or variable temperatures
Working with steam from cooking
Perspiration resulting from active physical activities such as sports, outdoor skiing, fishing and hunting
Outdoor recreation and sports activities such as driving snowmobiles, motorcycles, or boats
Steam from breathing into a mask as required in healthcare or while using other occupational protective equipment
Questions?
Our senior chemists and technical support staff are dedicated to supporting all your coating and process needs.
Product Finder
Find the right coating product for your application needs by searching our product catalog.