Sunglass & Sports Eyewear
Enhancing Durability and Optical Clarity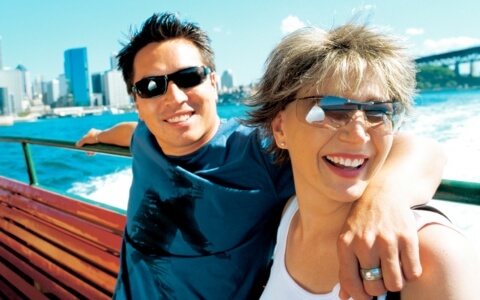 Sunglass & Sports Eyewear
Premium anti-fog, abrasion, impact, scratch, and UV resistance durability for sunglass and sports eyewear applications. Theses coatings can be used on tinted or clear substrates such as polycarbonate, polyamide, cast resins, and acrylic.
Substrates
Glass, polycarbonate, polyamide (optical nylon), acrylics and certain other clear plastics
Applications
Protective and safety eyewear devices such as eyeglasses, face shields, masks, goggles and visors
Sunglass and sports eyewear (shields, masks, goggles, visors)





Features
Exceptional optical clarity.
Highly durable, resistance to abrasion, scratch, chemical, fog, impact and UV radiation.
Compliant with many environmental standards.
Benefits, Anti-Fog Value Proposition
FSICT coatings prevent fog from appearing under numerous environmental conditions and occupational circumstances such as:
In humid regions when leaving an air-conditioned environment
In cold climates where frost inhibits vision
When adjusting from cold to warm conditions
When working with steam from cooking
From perspiration resulting from active physical activities, such as playing sports, outdoor skiing, fishing and hunting
While driving your car in extreme or variable temperatures
While participating in outdoor recreation and sports activities such as driving snowmobiles, motorcycles, or boats
Steam from breathing into a mask as required in healthcare or while using other occupational protective equipment
Anti-Fog Improves Safety by Enhancing Visual Clarity
Additional Anti-Fog Benefits Include:
Hydrophilic and water sheeting provide optical clarity, dramatically improving vision safety.
Climate control, eliminating steam during hot and humid summer temperatures and frost and fog during cold winter months to enhance visibility.
Tintable, compatible with anti-reflective, mirror and metalizing treatments.
Weatherability and UV resistance, will not discolor with exposure to sunlight.
Warranted for five (5) years, permanent anti-fog performance will not wear off, even after repeated cleaning.