Military & Security
Maximizing Visual Clarity and Physical Safety
When the mission is as dangerous as it can be, the visual clarity and durability of every clear plastic and glass surface must be as complete as they can be.
Protect those who protect us by maximizing the performance and durability of their equipment.
FSICT optically clear, premium anti-fog coatings deliver uncompromising visual clarity and provide climate control to eliminate steam, fog and frost while delivering maximum resistance to abrasion, impact, chemical and UV radiation.
They are extremely hydrophilic, hydrophobic, weatherable and highly durable, and will not discolor with exposure to sunlight.
Our coatings add toughness to all kinds
of military and security applications.
SOLUTIONS FOR HIGH-STRESS MILITARY AND SECURITY APPLICATIONS
Protective eyewear such as face shields, masks, goggles and visors
Optical equipment such as binoculars, surveillance cameras and rifle/night/laser scopes
Aircraft canopies, cabin windows, cockpits and instrument clusters
Military tank and security vehicle windows, windshields, instruments, gauges and guidance systems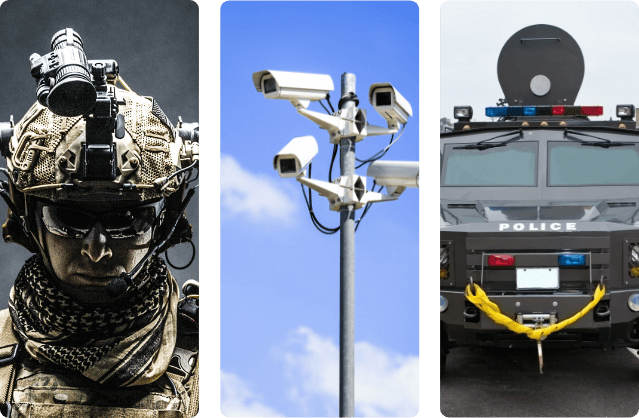 Solutions for all substrates
Glass: laminated, safety, security, tempered, bulletproof and tinted
Polycarbonate, polyamide (optical nylon), acrylics and other plastics
Ferrous metals, non-ferrous metals and metalized plastics
Manufacturing advantages
Available in thermal and UV-cure for dip and flow application
Versatile – compatible with anti-reflective (A/R), mirror and metalizing treatments
Exceptional stability, streamlining production and maximizing product yields by reducing the need for frequent tank change-outs
Functional benefits
Extra layer of shatter-resistance; for bulletproof and shatter-proof security glass
Ease of cleaning and maintenance using common household ammonia-free glass cleaners
Water-washable and water-repellent; water beads off
Best-in-class abrasion resistance to polycarbonate substrates
Warranted for five (5) years, anti-fog performance will not wear off, even after repeated cleaning
Questions?
Our senior chemists and technical support staff are dedicated to supporting all your coating and process needs.
Product Finder
Find the right coating product for your application needs by searching our product catalog.