Automotive & Transit
Accelerating Visual Clarity and Personal Safety
Any surface that can fog, freeze, scratch, shatter, suffer chemical damage or discolor with exposure to UV radiation over time needs a coating or film to resist those effects.
Give every surface the coating or film it needs.
FSICT anti-fog film and weatherable coating systems resist abrasion, impact, chemical and UV radiation damage while providing excellent optical clarity and resisting build-up of condensation and moisture.
Our solutions enhance safety by reducing the occurrence of shattering glass, with the PET film acting like a net to trap and contain glass fragments.
They provide premium weatherability and outdoor durability and are UV resistant; they will not haze or discolor with exposure to sunlight.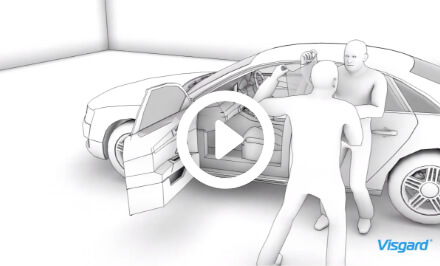 How to install Visgard® Premium anti-fog coated film onto automotive windows and windshields.
Our anti-fog coated films and weatherable coating systems cover all kinds of transportation vehicles
APPLICATIONS FOR ALL VEHICLE COMPONENTS
Our innovative, patented vehicle applications include all exposed surfaces in cars, trucks, motorcycles, planes, boats, trains, buses, motor coaches, gondolas and specialty and recreational vehicles such as snowmobiles.
Vehicle Parts:
Windows, windshields, side mirrors, camera systems, canopies, lights, sun/moon roofs, cockpit instrument clusters, panel displays and gauges
Electronics:
Head-up displays (HUD), GPS navigation devices and systems, LED lighting
Transit Structures:
Enclosed transit shelters for trains and trams, taxi stands and bus stops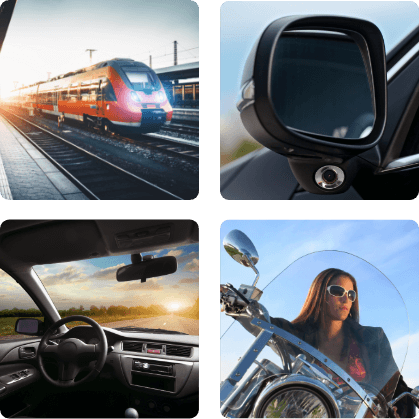 Visgard® Premium LTF-300 Anti-Fog Coated Film
for Automotive Applications Spec Sheet
Solutions for all substrates
Glass and plastics including polycarbonate, acrylic and others
Best-in-class abrasion resistance for polycarbonate substrates
Ferrous and non-ferrous metals
Manufacturing advantages
Two-part coating system; primer enhances adhesion and enhances protective performance
Tintable and printable surfaces; protective film surface can be digitally printed for decoration or advertising
Compatible with anti-reflective (A/R), mirror and metalizing treatments and adhesives
Compliant with many environmental standards
Functional benefits
Climate control, eliminating steam on windows in hot, humid weather as well as frost and fog in cold weather
Energy conservation, as protection from UV rays results in lower temperature variances required for heating and cooling
May be cleaned with common household ammonia-free glass cleaners
Warranted for 5 years; permanent anti-fog will not wear off, even after repeated cleaning
Questions?
Our senior chemists and technical support staff are dedicated to supporting all your coating and process needs.
Product Finder
Find the right coating product for your application needs by searching our product catalog.