Bathroom Mirror & Shower Door
Anti-Fog Improves Safety of Grooming Routines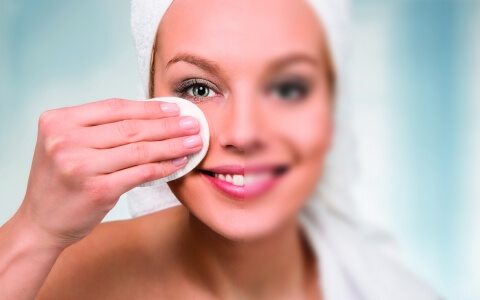 Bathroom Mirror and Shower Door
FSI Coating Technologies anti-fog coatings and coated films deliver high performance anti-fog protection even under extreme humidity conditions. Our Visgard® anti-fog coatings and films offer premium abrasion resistance, while Vistex® anti-fog coated PET film offers chemical resistance, both available with or without self-adhesive backing for easy installation. How to install Visgard Premium anti-fog coated film onto bathroom mirrors: Installation Video.
In the residential bath and commercial hotel and spa industries, FSICT anti-fog products provide an invisible layer of permanent, water washable anti-fog, chemical, and abrasion resistance to plastics, polyester (PET) films, and glass surfaces.  Visgard® anti-fog coatings and Vistex® anti-fog coated film options provide exceptional optical clarity and durability.
Commercial and industrial anti-fog coated film applications have multiple benefits. The hydrophilic coated anti-fog film causes moisture to spread into an even layer so it will not form mist drops which obscure vision. Anti-fog improves the visual clarity of mirrors, enhances safety by minimizing the impact of shattering glass on shower doors, and prevents windows from steaming. Additionally, our anti-fog coated films are easy to maintain with common household cleaners.
Substrates
Acrylic, mirror, and glass (may require primer)
Polycarbonate sheet and polyester (PET) film in 2 mil and 4 mil thickness
Available with or without pressure sensitive for application to flat glass and polycarbonate surfaces
Applications
Residential and commercial bathroom shaving, vanity, and powder mirrors
Shower and steam room doors, saunas, and windows
Features
Visgard® and Vistex® pre-cured coated films offer permanent water washable anti-fog performance.
Easy to install and maintain, anti-fog surface with water clear masking release liner protects the coated surface during installation.
Optically clear visibility, eliminating annoying fog.
Chemical resistant, can be cleaned with common ammonia-free household glass cleaners.
Highly durable, delivers best-in-class abrasion, scratch, mar, chemical and UV resistance.
How does the anti-fog work?
Anti-fog coatings prevent condensation to form as droplets on a surface. Anti-fog treatments minimize surface tension resulting in a non-scattering film of water instead of single droplets referred to as wetting. They can be applied either with an anti-fog coated surfactant (surface-active agent treated) film to an object, or with anti-fog coatings applied during the manufacturing process to create a permanent hydrophilic surface. Optically clear, anti-fog coatings are ideally suited for transparent glass and plastic surfaces for application on mirrors, windows, shower doors, as well as eyewear, cameras and binocular lenses.
Benefits, Anti-Fog Value Proposition
FSI anti-fog coatings are an economical alternative to commercial anti-fog sprays which require frequent application, degrade from frequent washing, and may yellow when exposed to sunlight. Also film is environmentally friendly and energy efficient compared to mirrors requiring electrical wiring mechanisms or warming heaters which can short circuit. Plus our anti-fog coatings deliver unparalleled anti-fog protection against steam, moisture, condensation and fog for years.
Anti-fog properties are applied with a special coating to the mirror and/or glass to absorb moisture, forming an even screen of water to keep the surface clear. These innovative patented anti-fog coatings deliver long-term performance under extreme humidity conditions. Since they are not available to consumers, manufacturers can enhance their mirror and glass product's durability and appearance as a competitive advantage to alternative temporary commercial and home recipe anti-fog sprays and gels.
Anti-Fog Film is Energy Efficient, Improves Visual Clarity & Physical Impact
Convenient, prevents bathroom mirrors from fogging, for a clearer hygiene experience.
Provides 100% visibility, a fog-free environment improves the safety of grooming routines such as shaving.
Cleaner, hydrophilic and hydrophobic properties prevent water stains and droplets from forming.
Safer, anti-fog film minimizes shattering on shower doors. The film acts like a net to trap and contain shattered glass fragments. Over 12,000 people are injured in America due to broken shower doors each year.
Environmentally friendly and energy efficient alternative to heated mirrors.
Anti-fog product differentiator, permanent anti-fog treatment compared to temporary sprays and gels.