Bathroom Mirrors & Shower Doors
Convenience and Safety in Grooming Routines
In the residential bath and commercial hotel and spa industries, safety and convenience are vital to providing an enjoyable experience.
Ensure a safer, more comfortable experience in extreme humidity.
FSICT anti-fog coatings and pre-cured coated films provide an invisible layer of permanent, water-washable, anti-fog to plastics, polyester (PET) films, and glass surfaces.
Our Visgard® anti-fog coatings and films offer premium abrasion resistance while our Vistex® anti-fog coated PET film offers chemical resistance. Both are available with or without self-adhesive backing for easy installation.
Our hydrophilic-coated anti-fog film improves the visual clarity of mirrors and windows by preventing condensation, causing moisture to spread into an even layer so it will not form single mist droplets, often referred to as wetting.
And because our coatings and films are not available to consumers, they offer manufacturers a competitive advantage over temporary commercial and home recipe anti-fog sprays and gels.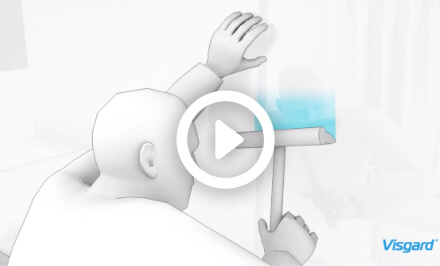 How to install Visgard® Premium anti-fog coated
film onto bathroom mirrors.
We provide anti-fog coatings and coated films
for all high-humidity bathroom applications.
APPLICATIONS FOR ALL BATHROOM SURFACES
Residential and commercial bathroom shaving, vanity, and powder mirrors
Shower and steam room doors, saunas, and windows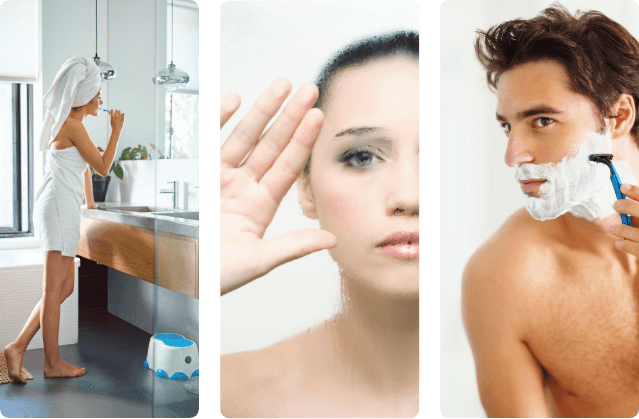 Solutions for all substrates
Acrylic, mirror, and glass (may require primer).
Polycarbonate sheet and polyester (PET) film in 2 mil and 4 mil thickness.
Available with or without pressure sensitive application to flat glass and polycarbonate surfaces.
Can be applied either with an anti-fog coated surfactant (surface-active agent treated) film to an object, or with anti-fog coatings applied during the manufacturing process to create a permanent hydrophilic surface.
Manufacturing advantages
Anti-fog film is an environmentally friendly, energy-efficient and safer alternative to heated mirrors, which require electrical wiring mechanism or warming heaters which can short circuit.
Safety: Anti-fog film minimizes shattering on shower doors. The film acts like a net to trap and contain shattered glass fragments.
Over 12,000 people in America are injured due to broken shower doors each year.
Functional benefits
Chemical resistant, can be cleaned with common ammonia-free household glass cleaners.
Permanent anti-fog treatment, a superior solution to temporary sprays and gels.
Questions?
Our senior chemists and technical support staff are dedicated to supporting all your coating and process needs.
Product Finder.
Find the right coating product for your application needs by searching our product catalog.