Medical and Safety
Optimizing Visual Clarity and Personal Protection
When there is no margin for error in visualization, there is no room for compromise in condensation control or personal protection.
Meet the highest standards in visual clarity, personal safety and product durability.
FSICT high-performance anti-fog film, sheet and complementary coatings are designed to meet industry standards and testing requirements for optical clarity, durability and personal safety.
The film renders the surface shatterproof by containing shattered glass fragments upon impact. It is also hydrophilic, hydrophobic, durable and resistant to abrasion, chemicals and UV radiation.
Anti-fog eliminates steam in hot and humid conditions and both frost and fog in cold temperatures.
Anti-fog coatings and films are tintable and compatible with mirror and anti-reflective coatings.
We provide tailored anti-fog solutions
for the most exacting applications.
SOLUTIONS FOR CRITICAL APPLICATIONS
Medical electronic display panels and devices, surgical camera equipment, cardiovascular stents and vascular implant devices
Protective safety eyewear devices such as eyeglasses, face shields, masks, goggles and visors
Automotive and transit, armored and security vehicle windshields, windows, and doors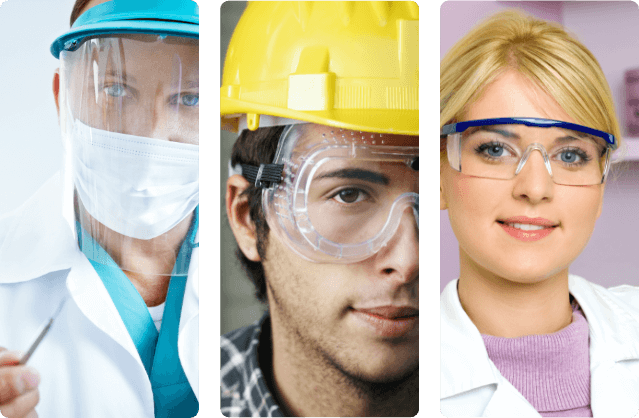 Solutions for all substrates
Glass: laminated, safety, security, tempered bulletproof and tinted
Plastics: polycarbonate and acrylic substrates
Compliance with all applicable standards
EN 166:2001-N Mark-Resistance to fogging.
EN 166:2001-K Mark-Resistance to surface damage by fine particles
EN 166:2001 Clause: 7.1.5.2. Resistance to Ultraviolet radiation
REACH-compliant coating
Functional benefits
Shatter-resistant; PET film acts as a net to trap and contain glass fragments
Ease of cleaning and maintenance using common household ammonia-free glass cleaners
Water-washable and water-repellent; water beads off
Best-in-class abrasion resistance to polycarbonate substrates
Warranted for five (5) years, anti-fog performance will not wear off, even after repeated cleaning
Questions?
Our senior chemists and technical support staff are dedicated to supporting all your coating and process needs.
Product Finder
Find the right coating product for your application needs by searching our product catalog.